1. Soft Shoe – L. Jones (LJ Jazzy 58 Publishing)
2. Big Beat Junction – L. Jones (LJ Jazzy 58 Publishing)
3. Flee As A Bird – Traditional
4. Mack The Knife – (Kurt Weill & Bertolt Brecht)
5. Basin Street Blues – (Spencer Williams)
6. Some Of These Days – (Shelton Brooks)
7. Alfie – (Burt Bacharach)
8. Shansky – L. Jones (LJ Jazzy 58 Publishing)
9. Oh Yes I Do – L. Jones (LJ Jazzy 58 Publishing)
10. Waltz For The Bride & Groom – L. Jones (LJ Jazzy 58 Publishing)
11. Just Thinking Of You – L. Jones (LJ Jazzy 58 Publishing)
Leroy Jones – trumpet, flugelhorn & vocals
Craig Klein – trombone
Alonzo Bowens – tenor & alto Saxophones
Paul Longstreth – piano (tracks 7, 8, 10 & 11)
Anders Aarum – piano (tracks 1, 2, 4, 5, 6 & 9)
Mitchell Player – bass (tracks 1, 2, 5, 6, & 9)
Nobu Ozaki – bass (tracks 4, 7, 8, 10 & 11)
Gerald French – drums (tracks 1, 2, 5, 6 & 9)
Bunchy Johnson – drums & percussion (tracks 4, 7, 8, 10 & 11)
Matt Rhody – violins (track 7)
Helen Gillet – cellos (track 7)
Special Guests
Greg Stafford vocals on Mack The Knife
John Boutté vocals on Just Thinking Of You
Todd Duke guitar on Shansky and Just Thinking Of You
All songs arranged by Leroy Jones
Recorded & mixed by Tim Stambaugh at
Word Of Mouth Studio December 13, 14 & 15, 2006
Mastered by David Farrell January 23, 2007
Produced by Leroy Jones
Art Direction by LJ Jazzy 58
Graphic design by Katja Toivola
Photography by Katja Toivola
Special thanks to Almighty God for blessing me with the gift of music, mom, dad, my loving and patient wife Katja, Craig, Alonzo, Giant, Paul, Bunchy, Nobu, Anders, Matt, Mitch, Helen, John, Gregg, Todd, Chris, Greg H. @ satchmo.com, WWOZ 90.7 FM, Louisiana Music Factory, Disc Makers and all of my faithful friends & fans that continue to support me and the music I love to play!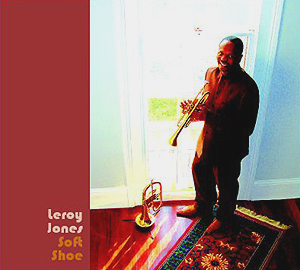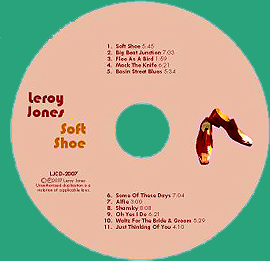 Listen to samples @ Leroy's MySpace
A mother blessed with many sons may truly love them all, but in the quiet of her heart, she still cherishes her favorites. So it is that New Orleans, the great mother of so many of America's finest musicians, has a special place in her heart for Leroy Jones.
And, after all, who could blame her?
Born in 1958 and raised by sturdy, loving parents in a largely black middle-class neighborhood in the city's 7th ward, Leroy picked up a trumpet for the first time at the age of 10 as a member of his parochial school band. Why the trumpet? The influence of Louis Armstrong! It was magic from the start. Wanting to extend his musical life beyond the limits of the school-day band room, he sought private lessons from his band director, Sister Mary Hilary, who was quick to recognize a prodigy when she heard one.
So was renowned string man Danny Barker, who, with his wife Blue Lu, lived just around the corner and heard Leroy practicing every day in the Jones family's garage as he rolled down the street in a snazzy, two-toned early model Pontiac. "It was pink and white," says Leroy, "Always clean and cool, just like Mr. Barker." The wishes of a number of boys to emulate "cool" more than matched Danny's deeply-held belief that musical elders were obliged to bring along the ones just coming up. Before long, Danny himself was in that garage, working on what would become the Fairview Baptist Church Christian Marching Band. Leroy credits the experience with shaping his musical orientation: "If it were not for Danny Barker, I might not have developed my passion for New Orleans jazz and brass band music, and for the musical culture that makes this city so unique." From the ranks of the Fairview Band, that most seminal of 'music schools' for young men, came many of today's most well-respected New Orleans jazzmen and Leroy was first among them. His talent was boundless – even Wynton Marsalis owns up to admiring, perhaps even envying, Leroy's power.
Wynton was not alone. As a teenager, Leroy befriended Harry Connick Jr. when the latter was still a boy, and the two have been fast friends and musical collaborators ever since. After eight recordings and countless tours together both here and abroad, Leroy is a mainstay with the Harry Connick Jr. band, and a key performer on Chanson du Vieux Carré, one of Connick's two recent recordings paying homage to the city's splendid musical tradition now battling back to pre-Katrina power.
But Leroy has his hands full with his own projects, collaborating broadly with artists around the world, producing his first-ever recording for another artist, Japanese singer Kasumi Kawamura, and – most important of all – completing work on his first new jazz recording since 2002. Soft Shoe is a delight, a fine mix of standards – New Orleans and otherwise – smoothly blended with his own original compositions. In it, Leroy displays his easy command of the jazz medium, staking new claims for his musical range, asserting the depth and breadth of his ability as an arranger, a composer, a band leader and, above all, as a performer.
The recording is a study in contrasts. Opening with Leroy's Soft Shoe, the jaunty, confident title track, the group moves on to his broadly elegant Big Beat Junction, defining themselves as master citizens of the jazz world. Catch the lively interplay between Leroy and his two key horn players, Craig Klein on trombone and Alonzo Bowens on saxophone. Yet in a heartbeat, we've left urbanity behind and find ourselves standing in the back streets of a New Orleans neighborhood, riveted by the brass performance of Flee As A Bird, one of the traditional pieces often performed during a jazz funeral.
Act Two: four standards, deftly arranged by Leroy and beautifully delivered by two groups of sidemen: Anders Aarum and Paul Longstreth trade off on the piano, Mitchell Player and Nobu Ozaki split duties on the bass, with Gerald French and Bernard Bunchy Johnson sharing the drum set. With Leroy's tight, crisp mute underscoring Alonzo's silky sax and Craig's growling trombone, you're sure Mack the Knife can't get any better – until Gregg Stafford's sly vocal kicks in. A trumpet player himself, Gregg is among New Orleans' most disciplined and dramatic performers – a man capable of leaving his indelible mark on any number. Listen to his characteristically witty ad-lib at the end of "Mack" and you'll know why.
Basin Street Blues and Some of These Days – two numbers long associated with New Orleans – showcase the easy dialog between the horn line and the rhythm section and provide Leroy plenty of room for his chic vocal styling. The surprise of the four? Alfie, which Leroy revitalizes with his own creamy work on flugelhorn superbly accented by violins and cellos. Full, rich, rounded notes hang in the air, infusing this old favorite with a new, sweet fragrance.
Then it's Leroy's turn to showcase four of his own compositions. Shansky, written with his friend, New Orleans drummer Shannon Powell, in mind, is a playful allusion to Shannon's own ebullient personality set to mischievous Pink Panther rhythms. The easy favorite? Leroy's enthusiastic Oh Yes I Do, sunny, upbeat, bubbling with the essence of new, happy love, pure and simple.
And love is the feeling that carries us along as the recording draws to a close. Waltz for the Bride and Groom was originally written to celebrate the wedding of friends in northern Europe where a waltz is a traditional part of the festivities but is often presented in a dreary minor key. Leroy had other ideas, and thus offers a melodious gift first to his just-married friends and now to us. Finally, there may be no better way to end than with another of New Orleans' beloved sons, this time vocalist John Boutté, featured on Leroy's original love song, Just Thinking of You.
There it is: Soft Shoe is more than the sharp upward turn of the trajectory of Leroy's career. It's a defining moment in the history of New Orleans music, proving beyond doubt that jazz, the quintessential American music, long nourished in the Crescent City, is still rooted here, safe in the hands of her favorite sons. And New Orleans, the great mother, care-worn, still crying for her lost children, lifts her head and smiles.
Christine Flug