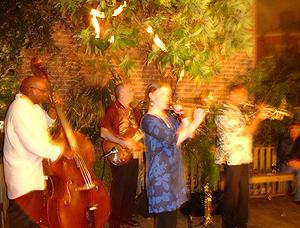 From trios to a full size band.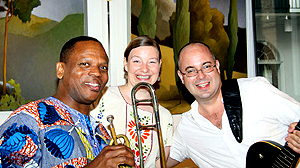 First class jazz played by New Orleans' finest.
Quartet
Leroy Jones - trumpet & vocals
Katja Toivola - trombone
Todd Duke - guitar
Mitchell Player - bass
Quintet
As above, add drummer
Comments from clients
"Thank you again for an evening of music certainly of a caliber with an evening spent with Clark Terry about 15 years ago, and with Dizzy Gillespie about 20 years ago, when we lived in NYC." J.P.
"Thank you for making my 50th birthday complete with your beautiful Jazz. It was a real treat to have you all travel to Baton Rouge for me – I was flattered. Hope to see you all perform again real soon. Once again, I am grateful!" L.D.
"We've had the pleasure of hiring Leroy for a number of parties -- weddings, birthdays and business conferences -- and each time his performance has been one of the highlights of our guests' New Orleans' experience! Not only is his playing simply breathtaking, his choice of music is impeccable and his stage presence is warm and inviting. Our guests have always felt like they were getting a real tutorial on the history of music in New Orleans from one of the true legends in New Orleans jazz. Can't recommend Leroy highly enough -- and I can't imagine a better choice for a private party." P.F.
"Project Rising Sun's fundraiser was a huge success thanks to the fantastic music provided by Leroy, Katja and Todd! It was perfect for our event – which was held in a home in the French Quarter. Many people came to the fundraiser because of the music and everyone had a wonderful time. The music was definitely a highlight for many and if you're hosting a party or an event, this is the band you want!!!!"
C.K.
"I have attended a few parties where Leroy Jones Group was the house band and they were all great experiences. Not only is everyone in the band tremendously talented, led by one of the best trumpet players/vocalists you will find anywhere -- not just New Orleans, but they do what they say they are going to do. They properly prepare, show up on time, and give a first-class performance. Whether you want them to swing their asses off (that's a good thing), play a more background role or something in between, the Leroy Jones Group can do it and do it well. I highly recommend them." K.V.